Quick Phone




1 (604) 662-8066

Quick Email




info@coastreporting.com
Accuracy of the record is our highest priority.
Realtime reporting gives you an instant on-screen transcript of the proceedings. You may review prior evidence, mark areas, and make notes. Because of the high degree of skill and technical ability involved, we request that you give us as much notice as possible when you require realtime reporting. Clients wanting realtime are urged to bring their own laptop for hookup; however, Coast does have a laptop available.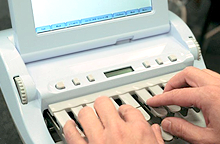 For many proceedings, the reporter can provide an unedited, uncertified transcript. Please let the reporter know at the beginning of the proceeding if you will require this service.
Request, Objection, and Exhibit pages included in every transcript
Key word indexes included in every transcript
E-Transcript, ASCII (text), and/or pdf files emailed at your request
Condensed versions of your transcript, free of charge
Proceedings via Video Link (Charges Apply) or telephone, if required
Photocopying, fax, and e-mail requirements
Conveniently located across from the Supreme Court of British Columbia, our eleven large boardrooms will comfortably accommodate up to eight people. Larger groups can be accommodated with advance notice. Boardroom bookings include:
Fresh coffee, Tea, Soft Drinks and Purified Water
Various pastries, homemade cookies, and fresh fruit